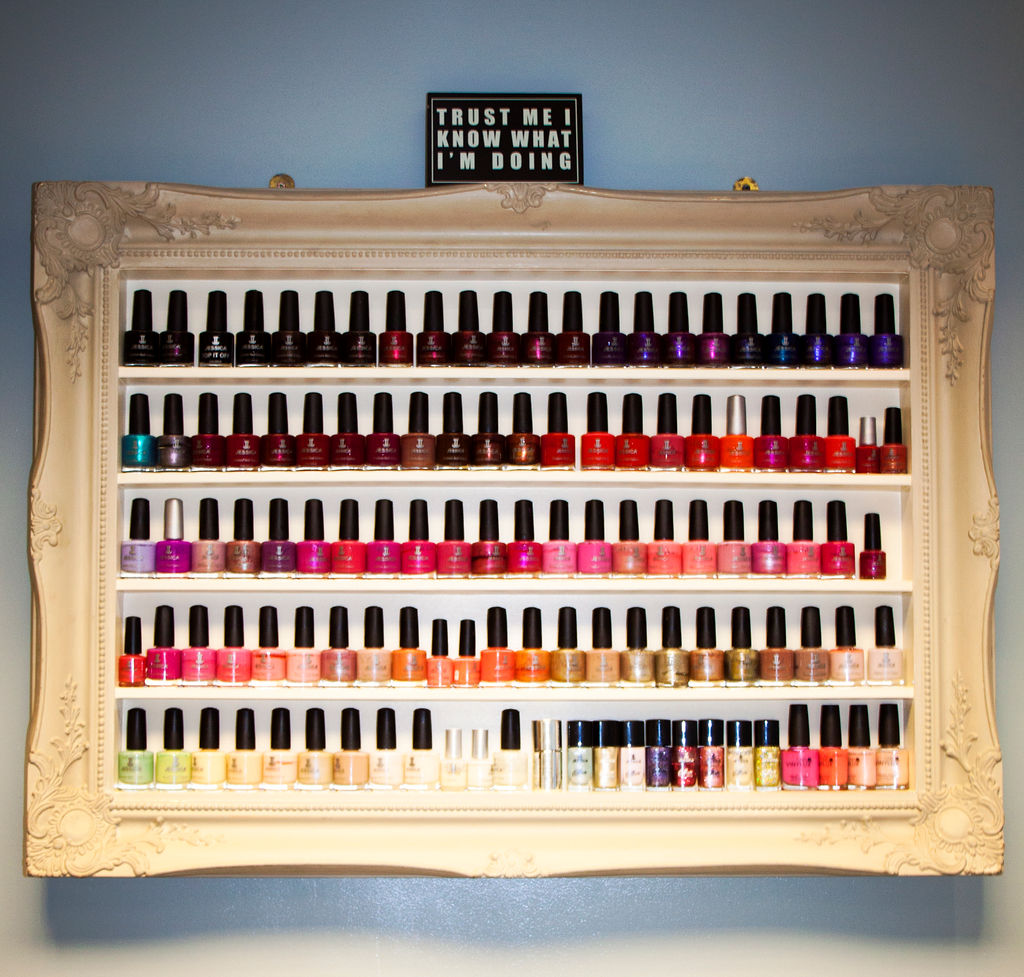 Shellac
CND Shellac is a 14 day + nail colour system that has zero drying time! It goes on like a polish and can be removed in minutes. A manicure that will give you instant freedom to get on with your life!
Application – hands
or
feet – 40 mins £25
Application – both hands
and
feet  –  80 mins £48
Removal & reapply  – 45 mins £25
Removal only – 10 mins £5
Removal with treatment includes cut, file,
treatment applied and solar oil – 15 mins £10
Shellac with scrub, heated mitts or booties and massage for either the hands or feet –  60 mins £35
Shellac with scrub, heated mitts or booties and massage for both the hands or feet –  120 mins £68
Combining a passion for the care of the natural nail and the latest technology, Jessica's award winning system offers a solution for every clients nail type and condition. A luxury Manicure and Pedicure solution that will leave you feeling complete
Prescription Manicure
Includes exfolition, heated mitts & massage before cuticle work, cut, file and paint
60 mins £30
Le Remedi
A facial for the hands. They will feel softer with a smoother appearance. Using a liposme system it's a 'beauty flash' for the hands that regenerates with regular use.
With added file and paint this is a complete hand and nail treat – 
40 mins £30
Combination of both the prescriptive manicure and the Le Remedi – 
75 mins £55
Paraffin Wax
A soothing 'Dip' using a mix of Paraffin Wax and Mineral Oil for the Hands or Feet. This warming treatment sooths aching joints, improves circulation and softens the skin. Used in conjunction with a Manicure or Pedicure you have the perfect combination.

Hands or feet Paraffin Wax Only – 30 mins £20
Hands with Paraffin Wax and manicure – 80 mins £50
Feet with Paraffin Wax with pedicure – 95 mins £54
Zen Spa Luxury Pedicure
Designed for total comfort. It includes cleanse, scrub, heated booties and massage before essential cuticlework, then cut, file and paint to finish. It leaves the feet feeling fresh and rejuvenated. Please bring your flip-flops!
75 mins £35
Combination of Jessica Hands and Feet –
135 mins £63
Callus Peel
A simple way of removing dry and hard callused skin from the feet and heels. Using a 'Peel Solution' this very effective treatment leaves the feet feeling soft and looking smooth even after only one application! Finishing with a foot massage it is a must for foot comfort and appearance
30 mins £20
If incorporated with any other treatment a special price of £15 applies
Reflexology
A system used to relieve tension and help treat disorders. Based on the theory of stimulating reflex points on the feet that are linked to the body, this helps to restore and maintain the body's natural equilibrium, induce wellbeing and encourage the body to self heal
45 mins £45
Discounts Available
When you pre-pay for multiple treatments*. Please ask for further details.
Loyalty Card Scheme
Receive 10% discount on your 11th visitwith this card.
Special Occasions
if you are getting married or celebrating a special event, we can tailor make a package of pampering just for you and to help you celebrate we'll offer 15% discount off the price.
Minimum spend £150
Recommend a Friend
You will both be rewarded with 15% discount when they spend £30 or more on their first visit.
Make a Wish Foundation
Our chosen Charity
Payments
We take Cash, all major Cards and American Express
Free Parking Available
*Cannot be used in conjunction with any other offer at No. 1 Beauty Studio. Prices correct at time of going to print and subject to change.
Opening Times:
Monday
Closed
Tuesday - Friday
10:00am - 8:00pm
Saturday
9:00am - 6:00pm
Sunday
Closed